Cyberpunk 2077 has finally launched after eight years of
hype and anticipation. Just like anyone would expect a game from CD Projekt
Red, the studio behind The Witcher 2, Cyberpunk 2077 offers far more than your
expectations!
It features a compelling story and a great open world to
explore in a dystopian Night City, and the focus of this gaming experience is….
well, you! The characters, quests, settings, events, challenges and everything
is created in a way to offer a massive amount of freedom to the player, while
keeping the experience engaging and immersive.
There's no doubt that Cyberpunk 2077 is a huge game, which
offers a lot of opportunities, interlocking mechanics, characters and stories
to alter and play around. Even if you spend first ten to twenty hours in the
game, you'd have barely scratched the surface. And when you try to rush things
up, you'll be flooded with a lot of options like what to do in the middle of
the fight, how to tackle it, dialogue choices and unlimited options for
building and customizing your character.
Are you curious to know the extent of Cyberpunk 2077's
character customization and options? Well, you have come to the right place!
Because here we have jotted down all the handy tricks and tips to build and
explore your character.
It's a no brainer that CD Project Red's massive RPG provides
you with a detailed character designing system. From your character's
appearances to fine-tuning perks and attributes, there are variety of options
to unlock as you make alterations to V. You can also consider Cyberware
implants that provide you with more handy abilities.
The thing is, as you go about your alteration with V's
appearance and skills, it will go further into their past too! So, you'll
require a Cyberpunk 2077 life path to develop their backstory. Anyways, there
are a variety of ways to make V the ideal character for you!
Read on and discover the ultimate ways of character
customization in Cyberpunk 2077:
Cyberpunk
2077 character creation: what are the options?
Cyberpunk 2077' character customization is very immersive!
It allows players to alter minute aspects in the character's appearances, face
structure, hair, scars, costumes and more.
On the character's face alone, you're allowed to make
adjustments in their skin tones, nose, mouth, ears, jaw, and eyes through
sliders. Presets are also available, in case you want to skip all these parts
and jump right into the action.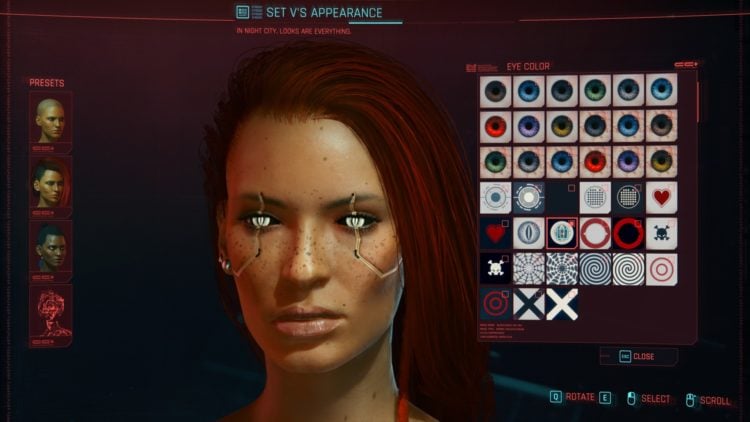 Below are all the appearance options we've observed so far
in the most recent version of Cyberpunk 2077 gameplay trailer as part of the Cyberpunk 2077 tips:
· Voice tone
·
Skin tone
·
Skin type
·
Hairstyle
·
Hair color
·
Eyes & eye color
·
Ears
·
Facial hair like beard including the color of
the beard and styling
·
Facial scars
·
Teeth
·
Facial tattoos
·
Eye makeup
·
Piercings
·
Piercing color
·
Eye makeup color
Of course, CD Projekt Red doesn't really want to reveal all
the easter eggs. So, we may likely have more customization options when Cyberpunk
officially launches, which is today!
Early news suggests that we will even have
the liberty to customize the length and color of the character's teeth and
fingernails.
Not just that, Cyberpunk 2077 also allows players to
customize genitals. Yes! Players can choose a gender and customize their
character, which includes appearances of breasts, buttocks, and genitalia,
including various sizes and combinations of genitals.
Do you know why Cyberpunk 2077 is trending on PornHub?
The character customization mechanism also dropped specific
male and female options to promote various body types and genders.
Cyberware
implants
The highlight of this whole character customization is
Cyberware! It allows users to give their character some special abilities.
There are multiple Cyberware items that you can fill across V's body. You can
also choose from various active and passive implants, including those that are
activated at particular time, for example, when your energy is running low.
Here is the list of cyberware implants that have been
spotted so far:

Blood
Pump: Speeds up healing. Attached in the character's cardiovascular
system.
·


Gorilla
Arms/Hands: for improving melee strength. Attached in V's
hand.
·


Kerenzikov: enable
character to move in slow motion, especially when dodging an enemy's attack.
·


Mantis
Blade: for adding blades to V's forearms.
·


Micro-rotors:
improves
speed and precision; should be installed in V's nervous system.
·


Monowire: it's a
fiber optic wire to slice through the opponents; players can install it in V's
arm.
·


Raven
Microcyber MIK.4: enables your character to conduct quick hacks
on targets and devices while scanning.
·


Reflex
Tuners: activates slow motion after your character's health hits
below a specific level.
·


Synlungs: for
improving tolerance regeneration; you can install it in the character's
cardiovascular system.
We're pretty sure there will be more cyberware implants
available at the time of launch. But among all of them, we prefer Blood pump
and Synlungs as they provide improved abilities to fight tough battles such as
tolerance and quick healing.
Attributes:
Attributes are basically different categories in your
character, in which you want to add skill points. It is the foundation of your
character's build!
Each attribute includes a particular set of perks, allowing
players to concentrate on using certain crafting, weapons, engineering and
more. One attribute can harness several skills.
For example, if you invest into
a Body attribute, your character will be able to carry heavy weapons and can
fire straight into the face of enemies for more satisfying results.
Below are the main Cyberpunk 2077's attributes of your
character:
Before you read onwards, here's how you unlock Cyberpunk 2077 Digital Goodies!
·


Body: Increases
physical strength. Investing points into this attribute allows your character
to improve health, stamina, and melee damage.
·


Reflexes:
Increases speed and power. It includes increased attack speed as part of character's skillset, making you
elusive for your enemies. This also improves your performance with blades,
rifles, and handguns.
·


Technical:
Investing in this attribute allows you to upgrade your armor and body
modifications. It also increases your chances to discover loot, as well as
improve engineering and crafting.
·


Cool: this
attribute assures you that you… well, don't lose your cool! Investing in this
attribute makes you stealthier and improves your resistance. It also enables
your character to persuade others into doing certain actions, for example,
intimidating them.
Cyberpunk 2077 is making its launch today! And we all know
where all the gamers will be spending their time for the next two weeks, especially during December Global Holidays…
Do you like the quick tips and tricks? Let us know in the comment section below.