No matter how much the President tries to
undermine his alleged victims, they keep coming forward, and inevitably so.
Source: The
Guardian
President Trump is
growing up in numbers, along with his long-running list of alleged sexual
assault victims! By now, at least 26 women have accused President Donald Trump
of sexual misconduct and assault, dating back to the 1970s. And the list keeps
growing on and on…
Pictures of
the women who have accused Trump of sexual misconduct
Amy Dorris, a former model is the latest addition to the long-running list of women who have accused Donald Trump of sexual
misconduct and assault, and just like always, he denied this too.
Dorris, when she was a young girl, alleges Trump of groping her, forcing his
tongue down her throat against her will at his private box during the US Open
in 1997. In an interview with the Guardian, she said that she felt "sick" and
"violated" by Trump's inappropriate behavior.
The Trump campaign is trying to weaken Dorris,
pointing fingers at her for continuing meeting the President after the alleged
sexual attack, as if the embarrassment and character assassination weren't enough.
Source: Esquire
Obviously, the Trump campaign would lay the blame
on the election and say that it is politically motivated. But the reality is
juxtaposition! Dorris is fearing for her
Daughter's safety to come forward in 2016 and she's still anxious even after
the revelation.
"All
the President's Women: Donald Trump and the making of a Predator" has detailed
all the accounts of women, sexually harassed by the man in the Whitehouse. Make
sure to read it first, before forming any opinion.
But what will happen next? Would that make any
difference? The shocking aspect of these allegations would certainly be a
Game-Over for some, but even after his notorious catch-22 remarks "Grab 'em by
the pussy" in the 2016 election campaign couldn't stop him from becoming the
president.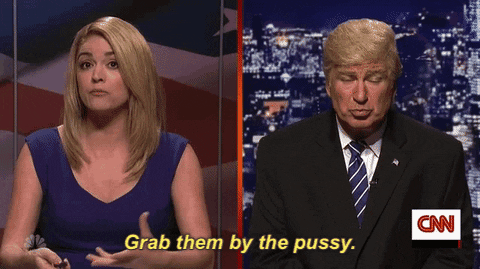 This whole Trump-being-a-sexual-predator fiasco
has become somewhat a mystery! All the victims and their allegations have been
swept under the rug without even holding the slightest chance of accountability.
Why is it even happening? Where are we lacking as a society? Why is it so
difficult to hold an alleged molester of 26 women (probably more) accountable?
It makes me wonder whether his voters have put on a blindfold or in-denial of
him being a predator. Or the situation is much worse, where his voters admit
that he has done something but they don't regard his behavior as something
"inappropriate" or "criminal." And if the people of such a mindset do exist, the
most horrifying part is, that they are among us producing or promoting such
predators in the society.
To add fuel to the fire, these growing sexual
allegations on Trump have increased his popularity and made him a president!
Patriarchal mindset can be another reason why
people have shrugged away all these allegations against Trump. They may believe
that a bachelor MAN trying his luck on women, attempting to approach them for a
'good' relationship, you know how it goes…
In reality, the allegation does not imply that a
Man is attempting to propose to a woman, in fact, they were all criminal and
serious in nature. These allegations do not, in any way, portray a man trying
his luck, but it shows how a desperate, serial sexual predator preying on women
without their consent, and surprisingly, he gets away with it!
Yet, it's very disappointing to see all these
mounting sexual allegations, including a series of sexual assaults in late 2007, against a man-in-power swept under the rug with no
remorse and accountability, but it's worth to say that at least these brave
women keep raising their voices, which is really important! Maybe one day, all
these voices together make up a roar that opens the eyes of his voters for
better…