Irish you a happy St. Patrick's Day!
It's finally the time to make use of your "Kiss me, I'm
Irish" T-shirts, as people all over the world are celebrating St. Patrick's Day
today! Even Google Doodle is ringing in the festive spirit, going all green
with its new Doodle in honor of the Feast Day of Saint Patrick.
Practically, this is a sort of religious festival that
signifies the arrival of Christianity in Ireland, but in the United States of
America, it has become a day of eating Irish stew, drinking Guinness, and
playing bagpipes in parades.
In case you didn't know, Saint Patrick is the patron saint
of Ireland, who brought Christianity to the country. As the famous saying,
"everybody is Irish on St. Patrick's Day," St. Patrick wasn't Irish at all. Actually,
he was born in Roman Britain and not Ireland! At the age of 16, he was taken
prisoner by Irish raiders and sold to today's
Northern Ireland as a slave. He
worked really hard as a shepherd, but he didn't lose his religious beliefs
during these unsurvivable times. He went on to preach Christianity in the country
through confirmation and baptism.
Even after hundreds of years of his death, there are many
stories and myths about this religious personality, including the popular story
that Saint Patrick was the one to drive out all the snakes from Ireland. Yes!
There are literally no snakes in the country!
To help you get into the festive spirit, we have rounded up
a list of St. Patrick's Day quotes, images, cards, jokes, puns and décor:
St.
Patrick's Day Quotes:
Source: Getty images
– "St. Patrick's Day is an enchanted time – a day to begin
transforming winter's dreams into summer's magic." – Adrienne Cook.
– "May your best day of your past be the worst day of your
future." – Irish Blessing
– "May the roof above
us never fall in. And may the friends fathered below it never fall out." –
Irish Blessing
-"You can take a man of Ireland, but you can't take out the
Irishness of the man." – Tyson Fury
-"A wish that every day for you will be happy from the start
and may you always have good luck and a song within your heart." – Irish Blessing
-"May your blessings outnumber the shamrocks that grow. And
may trouble avoid you wherever you go." – Irish Blessing
-"For the whole world is Irish on the Seventeenth o' March!"-
Thomas Augustine Daly
-"The best of all is the luck you make for yourself." –
Douglas McArthur
-"For each petal on the shamrock, this brings a wish your
way: Good health, good luck, and happiness for today and every day." – Irish
Blessing
-"The amount of good luck coming your way depends on your
willingness to act." – Barbara Sher
-"The heart of an Irishman is nothing but his imagination." –
George Bernard Shaw
-"Being Irish is very much a part of who I am. I take it
everywhere with me." – Colin Farell
-"May the road rise up to meet you. May the wind be always at
your back." – Irish Blessing
-"Ireland is a land of poets and legends, of dreamers and
rebels." – Nora Roberts
-"I have noticed that timing and luck sometimes line up in a
such a way that you can catch a break." – Ellie Kemper.
Memes
and jokes:
Be it Christmas or St. Patrick's Day, memes are always there
to make every occasion extra cheerful and special.
If these quotes aren't enough to give you festive vibes,
here are some funny St. Patrick's Day memes and jokes for you:
Hilarious
Leprechaun Jokes:
Why do leprechauns hate running? They would rather jig than
jog.
Why shouldn't you borrow money from a leprechaun? Because
they are always a little short.
Why did the leprechaun climb over the rainbow? To get to the
other side!
How can you tell if a leprechaun likes your joke? He's
Dublin over with laughter!
Why do leprechauns love to garden? They have green thumbs!
Hilarious
Irish jokes: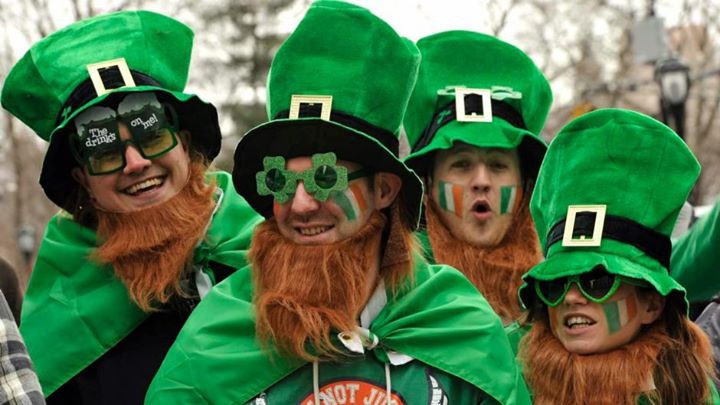 Source: Getty Images
What's Irish and stays out all night? Paddy O'Furniture.
Why do Irish people recycle? They like to go green!
Why shouldn't you iron a fur-leaf clover? You might press
your luck!
How can you tell if a potato is not from Ireland? When it's
a French fry.
What instrument would a show-off play on St. Patrick's Day?
The bagpipes.
Hilarious
St. Patrick's Day memes:
St.
Patrick's Day celebrations around the world:
As the coronavirus threat still persists, many countries are
adopting a virtual approach to ring in the celebrations of St. Patrick's Day
this year.
Last March, St. Patrick's Day was the first festival that
was affected when the pandemic took the world by storm. And in this year too,
many states have decided to keep St. Patrick's celebrations low-key, cancelling
annual parades and restricting most in-person activities for the holiday.
However, these Covid-19 related restrictions haven't stopped
them from cherishing the festival, in fact, they have come up with new ways to
celebrate the day.
Source: Getty Images
While all of the in-person parades have been cancelled this
year, the city continued with one of its other unique annual traditions such as
turning the Chicago River bright green. The city has been celebrating this rare
tradition since 1962.
As per the reports, the river-dyeing is not open for public
viewing. So, we should better stay in our homes and enjoy the pictures.
The Saint Patrick's Day parade is a centuries-old tradition,
dating back to 1762, which has been celebrated by people all around the globe, predominantly
by New York city, This year, the parade will be held virtually and also honor front-line
workers who are fighting against the pandemic.
In other places like St. Paul Minnesota, the traditional
parade has been cancelled due to coronavirus-related concerns, but the city is
hosting the "2021 Irish Mask-arade," a drive-thru event where visitors can
enjoy seeing a stand-still parade. The event will also be live streamed on
their Facebook account.
So, what are your plans for St. Patrick 's Day? Let us know
in the comment section below.
Don't forget to like our Facebook page, as we bring exciting
new content about festivals, cultures, and interesting news from the
entertainment industry.
Happy St. Patrick's Day!