Meghan Markle, Duchess of Sussex, decided to send across a
strong message to the Birmingham Palace by her jewelry choice in her latest
infamous interview with Oprah Winfrey.
In the interview, eagle-eyed fans spotted a special piece of
jewelry at Meghan's wrist that belonged to her late mother-in-law, Princess
Diana.
She paired her diamond bracelet with a black silk belted
Armani dress, accessorizing further with a gold Pippa necklace having a set of aquamarine
pendants.
Meghan's Armani dress features the lotus flower, which has a
special meaning.
"The lotus flower's daily resurrection is certainly
interesting, and surely symbolic of revival. (This makes it the perfect gift
for anyone recovering from injury or a traumatic experience.) But the flower
also has a fascinating will to live. A lotus seed can withstand thousands of
years without water, able to germinate over two centuries later."
So, it's impossible not to compare this flower with
persistent faith. Even though many cultures refer to the lotus as a spiritual
image, it is the most symbolic representation of faith within oneself. "It is a
particularly Buddhist proverb, aims to edify; living life with unwavering
faith, as the lotus does, ensuring the most beautiful revivals."
According to inside sources, it was the same bracelet that
Harry had used to make a sentimental engagement ring for his wife.
Earlier, Harry requested to pick out two diamonds from his
mother's bracelet to make a stunning 3-stone engagement ring for his wife,
Meghan. "It's beautiful, and he designed it. It's incredible," Meghan said in
an interview after Harry proposed in 2017. "Obviously not being able to meet his
mom, it's so important to me to know that she's a part of this with us."
But what was the reason behind Meghan Markel's bold
accessory choice in the interview?
"My biggest concern was history repeating itself," Prince
Harry told Oprah Winfrey in the Meghan Markle's tell-all interview on CBS.
It's a no brainer that the "history" which the Duke of
Sussex hinted towards was related to his late mother, Princess Diana, and the
media storm that took away her life.
Markel's transition into the royal family wasn't easy at
all, and part of it was because of raucous British tabloids – they always stoop
low to ridicule the new member of the Royal family, even if it means criticizing
her every step of the way. And the most ridiculous thing is that British media criticizes
Meghan for the things they praise Kate for.
They paint the two very differently, as if they "want a
narrative of a hero and a villain," said Meghan.
So, maybe Markle's decision to wear a bracelet of her late
mother-in-law during her and Harry's tell-all interview with Oprah Winfrey
could be perceived as her giving a "subtle" hints about her experience as a
Royal.
Diana was fearless when she appeared in a tell-all interview
with BBC. She had no remorse; she was confident while revealing her
ex-husband's extra-marital affair with Camilla Parker Bowles. "We were three of
us in the marriage," Princess Diana revealed in the interview. So, may be
Meghan Markle is channeling the same power from her mother-in-all when
revealing her struggles about adjusting in the controversial British monarchy.
In Prince Harry's Oprah Winfrey interview, the Duke of
Sussex also talked about his mother, how she was coping with the whole media
firestorm, and how it affected her life. He said that he feels a certain level
of anguish because he is with his wife while talking to Oprah, while her mother
suffered all alone. Princess Diana died in a car accident in Paris, France
while being chased by paparazzi.
The worried husband doesn't want the same thing happening to
his wife, hence, he decided to step down from the spotlight and moved to the
United States.
"You know, for me, I'm just really relieved and happy to be
sitting here, talking to you with my wife by my side because I can't begin to
imagine what it must have been like for [my mother] going through this process
by herself all those years ago."
Not just this, in fact, Prince Harry made several
comparisons of his wife Meghan and late mother, revealing her mental state as
one of the reasons for the couple's decision to move to California.
"I think she would feel very angry with how this has panned
out and very sad, but ultimately, all she'd ever want is for us to be happy,"
Harry said.
"I brought what my mom left me," he said. "And without that,
we would not have been able to do this, so touching back on what my mother
would think of this, I think she saw it coming. I certainly felt her presence
through this whole process."
When Harry joined Meghan and Oprah, he instantly expressed
his concerns over her mother's history repeating itself in Meghan.
Harry also relieved his tumultuous relationship with father,
Prince Charles, saying that he is "disappointed" by him. As for his brother,
Prince William, Harry stated that they "have been to hell together" and that he
"loves him to bits" but "we're on different paths."
On Valentine's Day, Meghan Markle and Prince Harry announced
that they were expecting a second baby, following the footsteps of Princess
Diana who announced her pregnancy on Valentine's Day too.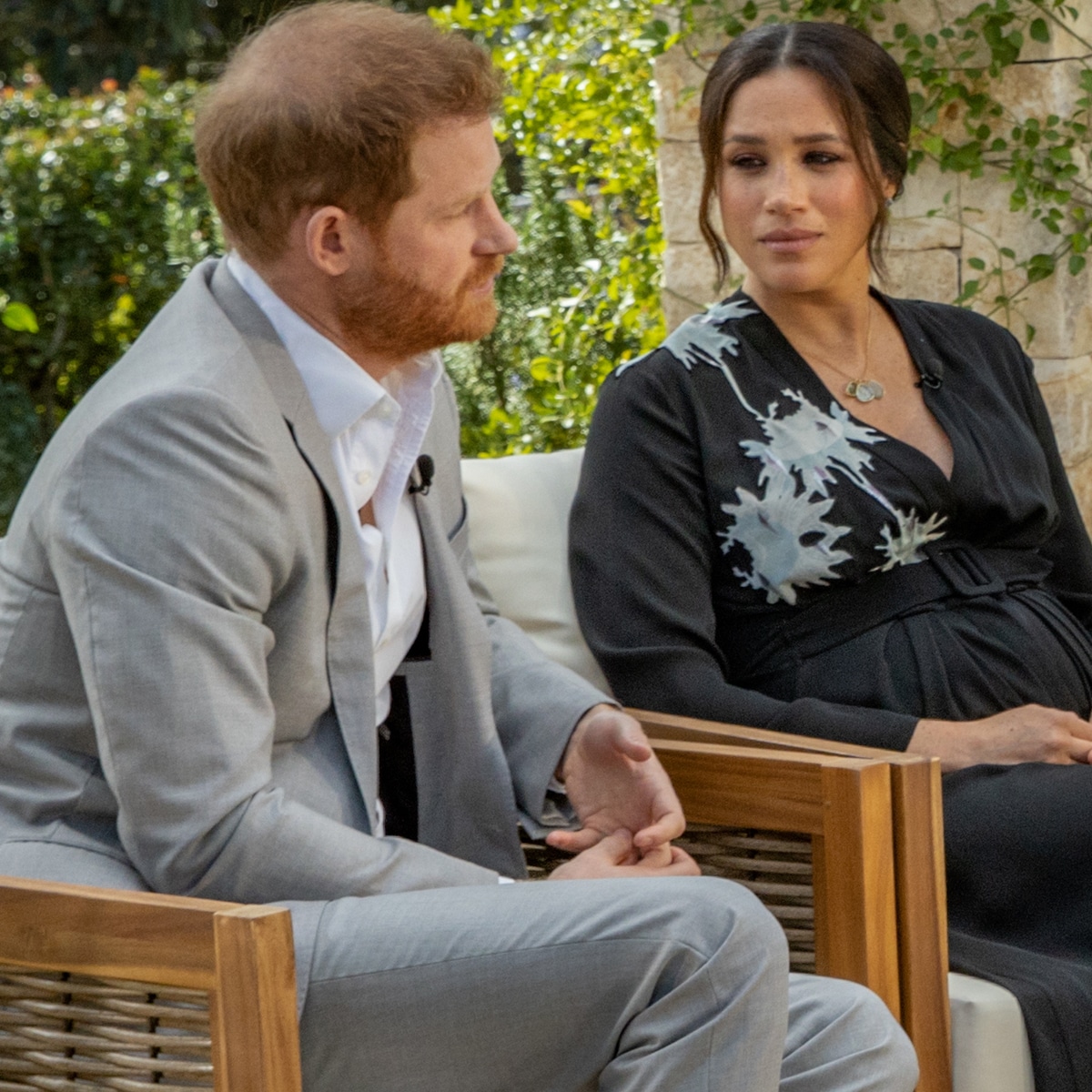 The news of the couple's pregnancy came just months after
Meghan revealed that she went through a miscarriage in July 2020. The duo said
that they are "extremely grateful" and excited for the pregnancy.
The couple is expecting a baby girl due in summer this year.
She is going to be their last baby. "What more could you ask for?" Harry said.
So, what do you think would be the reason behind Markel's
decision of showing up to a tell-all interview with Princess Diana's bracelet? Share your thoughts on our Facebook page and
don't forget to hit the like button!