The "love the way you lie" singer has stirred up yet another
controversy, this time, it involves her naked picture!
Just recently, Rihanna posted a topless Instagram photo to
promote her lingerie line "Savage X Fenty."
Rihanna's topless picture sparked a wave of backlash over social
media, with many calling out the singer for hurting religious sentiments and cultural
appropriation even from religious figure.
Related: 10+ Most Rude And Absolute Jerk Hollywood Celebrities In Real Life!
Well, a topless photo on Instagram(that too of iconic diva bad girl) is
sure to make things crazy, but religious and cultural appropriation; what that
has to do with Rihanna's naked picture?
Zoom a lil bit into Rihanna Instagram picture and you'll see the
exact problem that is causing fierce Hindu backlash.
In a post shared by badgalriri, she is wearing a
diamond-studded pendant featuring the Hindu God Ganesh.
In the picture, which was
shared both on Rihanna's Instagram and Twitter account, the Grammy-winner
singer is covering her breasts with her arms, posing in some purple accented
jewelry, including a bracelet, dangling ear-rings, wearing a necklace and a
pendant with a carving of the Hindu God Ganesh.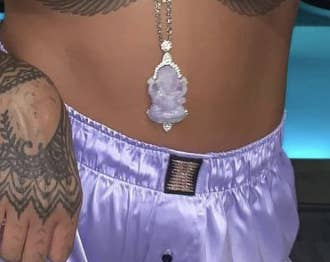 Wearing religion as an aesthetic, not cool girl!
In Hinduism, Ganesh (Also known as Ganapati, Ganesh and
Vinayaka) is "the god of beginnings" and "the remover of obstacles." Most
depictions of Ganesh God show the head of an elephant with multiple arms. This
God denotes wisdom, intellect and success.
Related: Why Is Tobey Maguire a Total Jerk In Real Life?
While some fans praised the singer for her bold fashion
choices, believers of Hinduism, who celebrate Ganesh Chaturthi every year, find
the picture super offensive and calling her out for disrespecting the holy
sentiments of Hindu.
Here's how people are reacting over topless Rihanna photo:
"Why is
Rihanna's company doing a lingerie photoshoot outside a Hindu temple and she's
wearing a Ganesh pendant as an accessory?" one Twitter user said after Rihanna
topless photo went viral.
While highlighting all the artists that disrespected Hindu
sentiments previously, a Twitter user asked, "How hard is it to respect and not
appropriate Hinduism for your own personal gain?"
"It's
2021 and by now, we should all understand that religion is not an aesthetic,"
this person tweeted.
"It's not
okay for Rihanna to use Hindu religion as an aesthetic," says a disappointed
fan.
"Ganesh
is a holy sentiment to millions of people celebrating Ganesh Chaturthi every
year," said a believer who called Rihanna photo "super offensive."
One of
the fans stated that Rihanna's derogatory attitude towards Hinduism should not
be condoned or defended!
A disappointed said, "You can love Rihanna and
still call out, btw."
Another
fan shared her disappointment with the artist saying, "Rihanna's appropriation
of the Hindu God Ganesh is something I never thought I would see."
Others
said that cultural and religious appropriation is unacceptable even for a non-believer.
"Hindu
appropriation is not an aesthetic," says another user.
Many fans
are disappointed because they didn't expect religious appropriation from
Rihanna…
You gotta
respect one's religion, especially when you're a celebrity.
The
singer has been called out for doing a lingerie photoshoot in Hindu's sacred
praying place, "Mandir" or Hindu Temple.
"Wearing
a Ganesh pendant whilst half-naked with absolutely no knowledge of the cultural
symbolism it carries, disrespectful as fuck," says another Twitter user.
Rihanna
offensive picture comes right on the day when the Hindus were celebrating
Ganesh Jayanti.
"Grow
Up," says another angry fan.
An angry
Hindu believer called out Rihanna for a "sick mindset."
Fans have
lost respect for the singer after her derogatory lingerie photoshoot at the
Hindu temple.
This isn't the first time. Umbrella
singer has pissed off many nations for religious and cultural appropriation.
Last year, she used a song that features Islamic religious verses in her Savage
X Fenty October 2020 show, which offended many from the Muslim community. The
backlash led the singer to apologize in her Instagram account.
Will she also apologize to the Hindu community? Stay tuned to
Hayvine and like our Facebook page to get the latest updates about this story.