The world's most controversial couple, Meghan Markle (American actress who was born on August 4, 1981) and
Prince Harry (who was born on September 15, 1984) are rumored to have broken up two days after the pregnancy
announcement.
Related: MEGHAN MARKLE AND HARRY SHARED THE SWEETEST MOMENT ON ARCHIE'S FIRST BIRTHDAY.
Harry and Meghan, the couple, who parted their ways with the British Royal
Family and moved to the United States to get some privacy not too long ago, are
now in the headlines for parting with each other! Oh, the irony!
Seems like that Prince Harry and Meghan loves to be in the spotlight and has
no plans of backing off… we will discuss this later in the blog.
Related: PRINCE PHILIP'S DETERIORATING HEALTH CONCERNS ROYALS AMID QUEEN'S MILESTONE RULE.
New Idea, an Australian women's magazine, seems to have started
this rumor, claiming that the couple has ended their relationship.
Published on Monday, the cover page of the magazine features
a picture of Harry and Meghan on their wedding day in 2018 alongside a text
reading, "It's all over!" The page is edited in a way that it appears to be
ripped down the middle of the couple's picture.
This was the big news after Meghan and Harry's Royal Exit.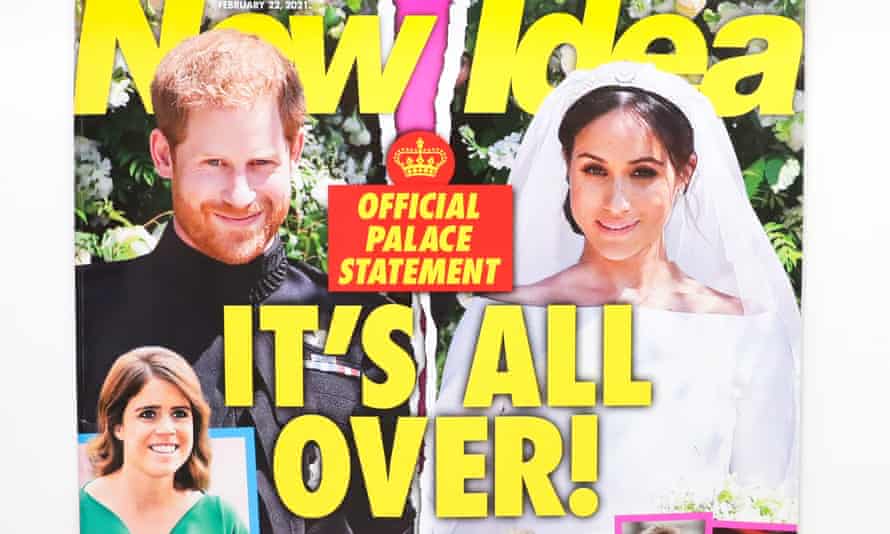 The magazine also promises to have an "official palace
statement" to validate their story.
The shocking headline hit the shelves on the same day both in UK and North America when
the Duke and Duchess of Sussex announced that the Duchess was pregnant with a
second child.
Behind the scenes: Archie (Prince Harry and Meghan baby) is going to be a big brother!
The couple announced the news with a monochrome picture of
themselves in a garden under a tree, with Meghan resting her head on Harry's
lap and her hand placed on her bump. We don't find anything messier about it!
"Archie is going to be a big brother. The Duke and Duchess
of Sussex are overjoyed to be expecting their second child," said a
spokesperson for Harry and Meghan. The couple had their first child on May 6th,
2019 and named their son Archie Harrison Mountbatten-Windsor.
Source: People
The couple borrowed the idea from Princess Diana, who also
announced the news of her pregnancy on Valentine's Day in 1984 when she was
pregnant with Harry.
While the cover of the Australian magazine falsely claimed
the couple's breakup, the article itself read "the couple have been caught in a
series of slip-ups, missteps and spins that's left the Queen suffering a
firestorm of unprecedented scrutiny, with many demanding the Sussexes be
stripped of their titles once and for all."
Harry and Meghan withdrew themselves as senior royals on 31st
March, 2020 and settled in North America. They, however, haven't yet stripped
off their royal titles, and Harry remains sixth in line to throne. The magazine
claims that the news of their separation would serve as a final nail in the
coffin and they will be stripped off their royal titles for good!
Following the poorly timed rumors of their split, fans of the
Duke and Duchess took to social media to mock the magazine. One user tweeted,
"Can someone explain to me how New Idea magazine in Australia has predicted
that Harry and Meghan are divorcing next week when they just announced they are
pregnant with bubba number 2? Seriously, there people are so idiotic, that they
think everyone is as stupid as they are."
This is a classic example of bad timing!
Anyways, the couple – who had decided to take a break from
public spotlight after stepping down as senior royals — are now once again making
headlines, following the announcement of their first interview with the TV
mogul, Oprah Winfrey.
The Duke and Duchess of Sussex will finally break their
silence on their epic split with the Royal Family. Their exclusive interview
will air on March 7 on CBS.
According to CBS, Meghan will talk about her life as a
royal, motherhood, marriage, and philanthropic work and how she is handling her
life under immense public pressure. Later, she will be joined by Prince Harry
as they will share their plans about future and their experience of moving to
the United States.
To put it simply, they will be revealing everything!
As one can expect, the Royal Family would be fretting about what
will come out during the interview, as the couple are no longer required to
follow royal protocols. It's like unleashing the cat out of the bag! The
Duchess of Sussex is believed to be following the footsteps of her late
mother-in-law, Princess Diana, who gave an iconic interview to Martin Bashir in
1995 on BBC's Panorama.
The Queen, mother of British prince, got to know about this interview just a few hours
before it broadcasted. This time, though, the Queen has plenty of time to
prepare for the consequences.
Related: THE MOST EMOTIONAL MOMENTS FOR EMMA CORRIN WHILE PERFORMING DIANA IN THE CROWN.
Since the couple has nothing left to lose except their
titles, imagine the havoc they could bring to the Royal Family after their
upcoming no holds barred interview with Oprah. And it isn't a false story!
The Buckingham palace itself and not any other documentary reportedly responded to this news,
stating, "The Duke and Duchess are no longer working members of the Royal
Family and therefore any decisions they take with regard to media commitments
are matters for them."
Honestly, the real royal drama is much more happening than Netflix's Crown. What do you think? Will they split their charities too? Share your thoughts with us on our Facebook page and
don't forget to hit the like button to stay updated with Harry and Meghan news including royal breaking news!