Kanye West or Biden? Kim takes side!
Kanye
West exercised his right to cast the first-ever ballot today, and of course, he
voted for himself.
Again,
of course, he shared the news on Twitter: "Today
I am voting for the first time in my life for the President of the United
States, and it's for someone I truly trust….me."
He also shared a video of filling out his own Wyoming ballot (don't worry, it's not against the law). He wrote
his name since he didn't make the ballot in the state. Also, he did not vote in any
other races.
Kim Kardashian West, West's wife was repeatedly
encouraging her fans to go out and vote, but she didn't spill the beans about who exactly
she voted for. Though, she hasn't been endorsing Kanye West for his candidacy
nor has she shown any interest.
Kim Kardashian posted her picture with the "I
voted" sticker on social media on Tuesday after casting her vote in the US presidential
election. She captioned the picture on Twitter, writing, "I VOTED!!!! Did u???"
And as we all can expect, fans flooded her post
with questions asking whom she voted for. One fan simply asked "tell us who you
voted for," while another shared a picture of West with Donald Trump,
Republican presidential nominee who's currently running for reelection.
Some fans believed that Kim had voted for her
husband, considering that she has been a very supportive wife lately, though
eagle-eyed fans pointed out something which indicates otherwise:
Kim liked a tweet endorsing the popular Joe
Biden, Democratic nominee, from West's buddy Kid Cudi. Remember, Cudi is one of many West's minions who
didn't really endorse the rapper's dramatic presidential campaign, following 2
Chainz that appeared recently on a remix of Kanye's campaign "theme music,"
attended a Biden campaign rally on November 2.
But again, some fans even pointed to Kim's red
dress, implying that she had voted for Trump. Well, Kim has had enough with the
riddles and all the mystery, so she instantly deleted the picture and re-uploaded
a monochrome selfie.
She then wrote a caption, reading, "If you are in line when the hours of
operation close at the polls, they are required to stay open and allow you to
vote, so do not get out of line."
Whoever she voted for still remains a mystery… and
all we can do is to take a mere guess!
Though it is kind of obvious that, among all the
candidates, it wasn't her husband that she voted for! We can only imagine how
West is going to react to this after finding it out… Things are only looking to
go North between them, oops.
But cut her some slack, man! We can't even imagine
what situation she would really be in… nobody wants to throw away their vote,
right? Even if it offends their husbands, the same goes for Melania Trump… no
pressure whatsoever!
At least West didn't sneak into his wife's ballot
as Trump did…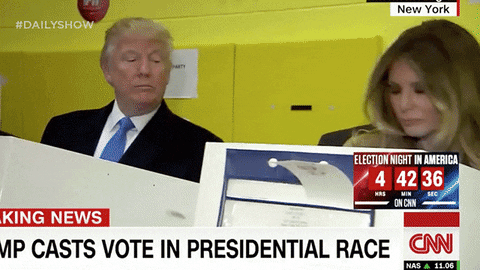 But, you know what's more surprising, West is
getting over 7,000 votes… and we're not even kidding, look!
And some people are still in shock seeing Kanye's
name on their ballots…
I'm already feeling the pressure…