Folktale myths don't get old for a reason. They have been
passed down from generations to generations for centuries. These historic talesare so culturally ingrained that there's no way we can ignore them. That's the
reason why streaming-content producers have been adapting and transforming
these mythical tales into a new genre of TV series.
Netflix's new crime-fantasy series from Brazil, "Invisible
City" features the same concept, giving the native mythical tales a cinematic treatment.
Brazilian folklore is loaded with abundance of mythical creatures, so there's
no surprise to see a few of them in the Netflix series.
Related: Firefly Lane: Key difference between Kristin Hannah's novel and the movie!
Premiered on 5th February, Invisible City is now available to stream on Netflix. If you're
still indecisive whether to stream it or skip it, scroll down and discover 5
reasons and Netflix reviews that can help make up your mind:
The
series features mythical creatures from Brazilian folklore
Source: IMBD
Originally titled as Cidade Invisivel, the latest Brazilian
series on Netflix revolves around a concept of "what if those folktale legends
were real?"
Related: Five shocking details about the Night Stalker's Survivor – Anastasia Hronas!
A homicide detective, Eric, discovers the invisible world
inhabited by mythical creatures, while investigating a murder.
The series opens with two men walking through the forest at
night, when the elder one decides to shoot a bird. Later, we see him getting stabbed by a creature with a flaming head and twisted feet. Those who're
familiar with Brazilian folklore would immediately identify this creature as
the Curupira.
Well, this isn't enough! Throughout the series, viewers are
introduced to several characters from Brazilian folklore such as Saci, a
one-legged boy with a red cap. In the series, he is named Isac.
Related: Netflix Red Dot Trailer: 3 Reasons You Should Avoid Watching This!
There's also a mermaid called Iara, a shape-transforming
warthog called Taire-iaura who helps Ines (Curupira) on her mission to keep
their world hidden from the mainstream world.
Perhaps those who're aware of Brazilian stories would
consider this series as unoriginal, but for us, it's intriguing.
We get
to learn a lot about Brazilian culture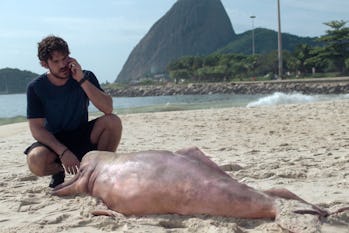 Truth be told: Cultural folklore is hard to portray. Obviously,
we can't get the sense of another culture's folklore without understanding the
background and context surrounding it. But this series has done the job well!
Related: Queen Latifah shares shocking details about The Equilizer!
Invisible
City
features native folklore in accordance with the modern world, a world that is
increasingly similar throughout every culture. In this way, even an outsider
could easily understand the modern version of Brazilian folklore in the form of
crime fantasy Netflix original.
Invisible
City
may sound like every other movie based on the concept of "myths are real," but
the series tends to broaden this genre by adding a cultural aspect, making it a
worthy watch during current times when travelling is limited.
Each
episode leaves viewers with a shocking cliffhanger
Related: iCarly cast, trailer, plot and everything!
Invisible
City
consists of only seven episodes, each with a runtime of 35 minutes. It's short
and pretty digestible. Most episodes tend to leave viewers with a cliffhanger
or an end with shocking revelations.
The show handles the element of curiosity well enough that
not only keep viewers hooked till the end but also delivers the thrill they are
expecting.
The series
is created by Ice Age director, Carlos Saldanha
You might have not heard his name before, but you definitely
have watched some of his previous work. He co-directed the 2011 animated movie Ice Age and its sequels. He also worked
as a director in other animated movies such as Rio (2011) and Ferdinand (2017).
Related: Celebrities who are total jerks in real life!
Obviously, there's no comparison between animated movies and
live-action fantasy series. But, the impressive special effects in the Invisible City suggest that it is the
work of the same man. Carlos isn't the one who has directed the series, though.
Invisible City is, in fact, directed
by Luis Carone and Julia Pacheco Jordao, while Carlos Saldanha is serving as the
show's creator.
The
show has received favorable reviews
The latest Brazilian show has been received well among both critics
and viewers, with praises mostly about its impressive visuals and interesting
storyline. Here's how fans are reacting to the new Netflix series:
Check out the trailer here:
Also, like our Facebook page to learn more about Netflix's
upcoming movies, series, and documentaries. Also, check out Monarca's season 2 review, stream it or skip it!