"We're
like the Gilmore girls, but with bigger boobs!"
It has
been a week since Ginny and Georgia
dropped on Netflix and fans are already addicted to it. If you have already
binged its entire season one, you know how wild this ride would have been!
Along with
cheeky love-triangles, murder, and frauds, the Netflix show tackles plenty of
social issues such as female pleasure, sexual consent, body image, race,
self-harm and everything in between.
Drawing
plenty of the inspirations form Gilmore
Girls, Ginny and Georgia too features
a close mother-daughter relationship with a young mother Georgia (played by
Brianne Howey), who had her daughter Ginny (played by Antonia Gentry), when she
was only 15.
Yet, despite
its Gilmore Girls-inspired premise,
the series has several key differences such as the tone and storyline are much
darker, including murders and some shocking secrets.
But would
there be a season 2? Hopefully, yes! Here's what we know so far about a potential
sequel season of Ginny and Georgia, including
its plot, trailer, cast and release date:
What is the release date of season 2?
Ginny and Georgia hasn't
been renewed for second season yet. But, don't worry! Netflix usually takes
three to four weeks to announce their plans for the show's renewal. Even for the
most viewed and talked about show like Bridgerton,
Netflix took about four weeks to renew the show for second season. So, hold
tight, there is going to be a good news soon!
What are the cast of season 2?
Ginny and Georgia can't
be without Ginny and Georgia, so, of course, the show's two main lead will be reprising
their roles if season 2 gets the approval.
Along
with them, we can expect the following cast members to return for the series' second
season:
Austin (Diesel La Torraca).
Ginny's
BFFs (or ex-BFFs, more on that later) Max (Sara Waisglass), Abby (Katie
Douglas) and Norah (Chelsea Clark).
Marcus
(Felix Mallard).
Hunter
(Mason Temple).
Mayor
Paul (Scott Porter).
Blue
Farm Café owner Joe (Raymond Ablack).
Teen
Georgia (Nikki Roumel).
Max
and Marcus's mum Ellen (Jennifer Robertson).
Georgia's
arch-nemesis Cynthia (Sabrina Grdevich) and her son Zach (Connor Laidman).
Georgia's
colleague Nick (Dan Beirne).
Private
investigator Gabriel Cordova (Alex Mallari Jr), among others.
What is the plot of Ginny
and Georgia season 2?
The
ending of season 1 was full of hammer and tongs – and that would be an understatement!
Season
one covered a lot of ground but with every problem solved, comes another one
rolling…. And to solve them, we need a sequel season!
The mystery behind the
death of Georgia's husband, Kenny, hangs over the entire season, the plot
finally revealed that it was Georgia herself who murdered him. Though, her
reason of killing her husband is sort of justified as she discovered that he
has been sexually assaulting her daughter Ginny.
After
finding this out, Ginny decided to flee with Austin to find her real father. Meanwhile,
Georgia had no idea that her kids have left because she was too busy in celebrating
the re-election of her fiancé Mayor Paul.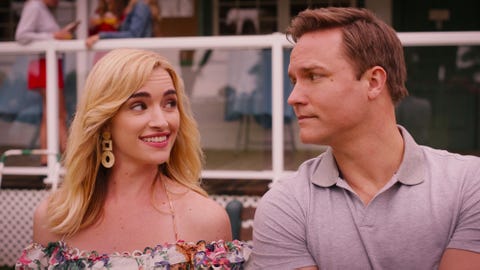 While
commenting on the series success, creator Sarah Lambert shared her thoughts
about season 2, saying, "Season 1 really did feel like a season 1. We just
started uncovering some of the layers for all characters, across the board,
which we want to dive into. We are hoping we get the chance."
Sarah
also hinted further exploration of the mother-daughter relationship in the next
season. "The relationship between Ginny and Georgia is the third character
in the show. It lives on its own. It's constantly changing and evolving. There
are so many scenes where the two of them are communicating with each other over
everyone's head. They are intrinsically wound," she said in an interview with a
private magazine.
What is the trailer of
season 2?
First
of all, we need an official statement whether season 2 is in the picture. As soon
as it gets a green light, we will update you with the trailer, release date and
everything that comes along with it. So, stay tuned to Hayvine and like our
Facebook page!