Do you ever have suspicions about what's going on behind
your back? Can you ever truly trust the people around you? Or you believe that whatever
you see is just deception?
Well, Netflix's upcoming series is bound to make you
question your own reality!
Related: EXCLUSIVE: JACK UNTERWEGER, RICHARD RAMIREZ, CECIL HOTEL, ELISA LAM AND EVERYTHING YOU NEED TO KNOW!
The mystery thriller Behind Her Eyes loaded with betrayal, secret affairs,
shocking twists and characters who are repressing some dark and unsettling
mysteries about their past. It's the kind of series that will have families
arguing over its twisted ending at the dinner table!
Behind
Her Eyes is based on the best-selling novel of Sarah Pinborough that
goes by the same name. It means that the time for the hashtag #WTFthatending to
trend has come!
Here's everything you need to know about Netflix's upcoming
thriller series by Steve Lightfoot and Erik Richter Strand, including its trailer, cast, and release date:
Related: 5 FACTS ABOUT NIGHT STALKER SURVIVOR, ANASTASIA HRONAS!
Cast:
Tom Bateman
Eve Hewson (wife Adele)
Robert Aramayo
Simona Brown
Plot: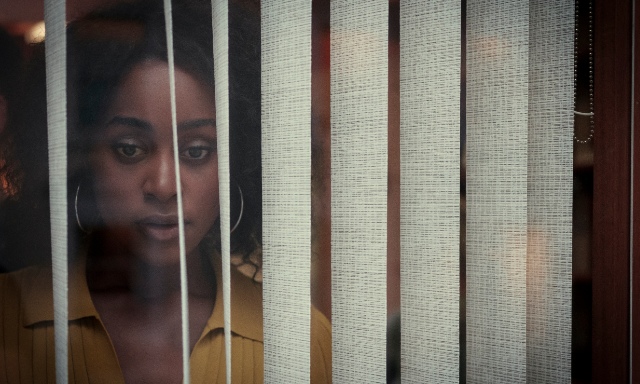 Source: IMBD
The series follows Louise a single mother, Louise, whose otherwise
uneventful life takes an interesting turn when she lands a perfect job as a
secretary to a psychiatrist office named David. And just like any other unsolicited
romance, she gets caught up in an affair with her new boss David, who is already
married to Adele which Louise finds soon.
Related: THE FINAL WORDS BETWEEN RICHARD RAMIREZ AND ANASTASIA HRONAS (NIGHT STALKER)!
After bumping into David's wife, Louise befriends her (create a strong bond and friendship with his wife) and
finds herself stuck in a love triangle of betrayal, secrecy, and lies.
Now you may be wondering that it's the same-old love
triangle-based thriller, right? Well, it's not! In fact, it's way more
complicated than you can imagine!
This six-episode Behind Her Eyes miniseries will gradually peel off its
onion-esque plot, with each episode revealing shocking truths about the characters'
past and the problematic bonds that link them together. It's the kind of plot
that will convince you that you know what's going to happen next, but in the
end, it delivers something unexpected!
Related: CELEBRITIES WHO ARE TOTAL JERKS IN REAL LIFE
As the show's romantic entanglement proceeds further, creepy
things begin to happen and it certainly looks like the trio have unleashed
something that they shouldn't have in the first place… something deeply
upsetting!
Folks who have already read the book would know how twisted
its ending was! So, we are expecting the same WTF sort of moments with the
book's screen adaption.
Related: 10+ MOST RUDE AND ABSOLUTE JERK HOLLYWOOD CELEBRITIES IN REAL LIFE!
Trailer:
The streaming giant released the trailer of its upcoming
psychological-thriller series on 4th Feb, driving us all at the edge
of our seats already!
You can watch the trailer for Behind Her Eyes below and get ready to watch it in your part time:
By the look of its trailer, the series has some genuine
surprises unlike other TV shows! But god, look at those visuals! You may not be impressed by the
twists of this story, but you sure do agree with its visualization is stunning.
Behind
Her Eyes is a cinematically-pleasing mini-series, well-directed by
Erik Richter Strand and cleverly written by Angela LaManna and Steve Lightfoot.
Related: 50M2: EVERYTHING ABOUT SEASON 2, RELEASE DATE AND CAST!
Cast:
Source: People
The series features some great cast members playing
interesting characters: Simona Brown stars as a single mother Louise, Tom
Bateman plays the psychiatrist, David Ferguson and Eve Hewson perfectly pulls
off David's mysterious wife Adele. Robert Aramaya plays the role of her old
friend Rob – a problematic drug-addict who we meet through flashbacks (we learn
some shocking truths about this character as the series progresses).
While talking to a media organization, Brown describes her
character in Netflix's series, saying, "Louise is quite relatable. She is a
single mother who pours all of her life into her son, to the point where she
has kind of forgotten herself and who she is. I think she lacks confidence and
is self-deprecating, but is also very likeable."
She continues, "She puts on a brave face like all is fine
when she is really a mess and has past trauma which she hasn't quite got over
that manifests in night terrors she experiences quite regularly."
By now, you might have figured that the ending of this
series is what make this show a worthy watch. In an interview, actor Tom
Bateman said that it's crucial that the show's twist isn't revealed, as it is
the essence of the entire show.
He said that it's okay to share the spoilers with friends who
have already watched the show or to discuss it privately with blind-viewers,
but on the internet, you can spoil the show for millions! "I hope that doesn't
happen. If you enjoy it enough to care about the twist, hopefully you would
respect the piece and other's enjoyment of it," the actor said.
Honestly, it's difficult to discuss Behind Her Eyes without giving away some of the major spoilers. So,
we advise you to just go in blind with the unexpected directions the story
takes. In fact, we can't reveal the genre either, as that itself is a spoiler!
And we're not even kidding! In simple terms, the series isn't just a normal
mystery thriller, but a cross-genre – a genre that you neither expect at the beginning
nor in the trailer.
If mysteries and surprises are something you live for, the
show is worth watching!
A
noteworthy quote from the trailer: "I'm messed up as anyone
else, it's just that I am better at hiding it," says David in the trailer.
Release
date:
Behind
Her Eyes is slated for a release on 17th February on
Netflix.
So, what do you think about the thriller trailer after game of thrones? Share your
thoughts with us on our Facebook page. Also, don't forget to hit like the
button, as we bring latest news and stories from the entertainment world to
your social media timelines. Stay tuned for some more news including Hello, Me Netflix and others.